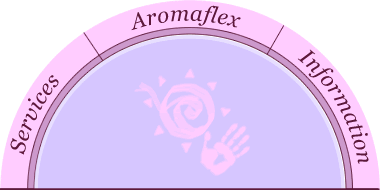 Aromatherapy | VRT | Baby Massage
Courses - Relaxation(Stress Management)
Topics:
Understanding Stress
Time Management
Dealing with Change
Assertiveness
Self Esteem
Relaxation Techniques

Looking at obvious and overt causes of stress and the less obvious and more hidden causes of stress operating within the individual and within the organisation.

The experience of stress whether at a personal or institutional level is often like "falling apart" and being "off centre".
The quality of health and well being of both the individual and the organisation are effected by this sense of disintegration and fragmentation. The causes of stress are complex, rooted in individual and organisational history.

Britta will design a suitable holistic and healthy lifestyle management program for your needs incoporating:

Meditation and Relaxation
Techniques as part of the Course.
The courses are run for groups by Aromaflex
Fees are based on size of groups and are flexible to fit into company or class groups budget.
For more details contact Britta at Aromaflex