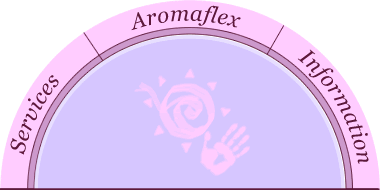 Aromatherapy | VRT | Baby Massage
Courses - Aromatherapy

Introductory Aromatherapy Course

Venue:
Aromaflex

Duration:
Twelve Hour Course

Tutor:
Britta Stewart Dolan
D.Aroma.D. Holistic Massage. D.Ref.
MIRI MIPTI MAR
Regional Network Co-ordinator for Institute of Reflexology of Ireland

Content:
An Introductory course designed to incorporate the basic principles of Holistic Massage and Aromatherapy.
The history and modern development of this natural Therapy.
Massage techniques demonstrated
Case Studies research
Essential Oils explained
Blending of therapeutic essential oils to suit symptoms.

Pupils will learn the basic techniques of applying Aromatherapy to help themselves, their family and friends.
However, completion of this course does not entitle the pupil to practice Aromatherapy massage in a professional capacity.
Each pupil should bring a notebook.

Pupils will be awarded with a certificate of attendance at end of course